Venetian Application Inc.
employs traditional plastering techniques from the 15th century.
We deliver your most challenging demands in unique plastering finishes.
With the same plaster as the great artisans of Venice, Italy.
 





Venetian plaster is a finish coat of the finest plaster, applied with a hawk
and stainless steel trowels by skilled and certified plastering artisans.

The artisans at Venetian Application Inc. will provide you with
that special elegance and incredible beauty of Venetian Plastering.
We have a huge verity of historically accurate and modern finishes
 for you to compliment most any architectural thyme.



Venetian Application has the freedom
to treat each commission as a work of art. 
The result is a true stone veneer plaster finish
in a matte or lush translucent color of your choice.

    
   

The art begins with the source for the natural materials needed.
True Venetian Plaster begins with the original source of Limestone
and Carrara Marbel use by the great artisans of Venice, Italy.
This source has been researched and developed By Safra,
in Verona, Italy, makers of the Arte'Nova line of fine plasters.

The Arte'Nova line of plaster results in a cool to the touch
smooth or textured finish where you can feel and see
the ingredients of natural Limestone and Carrara Marbel.

Lime and marbel based plasters, once exposed to air,
will carbonize, lose thier causticity, and harden back to natural stone.
Venetian Plaster, once applied, literally turns your wall into stone,
providing you with that relaxing sense of permanence.

 

Carrara Marble

  
Each plaster is hand mixed and custom colored
in my studio with natural earth mineral pigments for ecologically sound applications. 

Venetian plaster also guarantees against the formation of mold and bacteria
because of the natural diffusion and control of humidity through the plaster.

     To start, almost every finish we apply will begin with Firmonovo.
Firmonovo is a bonding agent essential for a successful plaster finish.
Firmonovo has excellent penetrating capacity
into the substrate with an excellent binding/cohesive capacity
while allowing the substrate to breath.

There are a few exceptions, like Etruria, Travertino, Murs D' Art and Stucco Lugano
that require more "tooth" to the substrate. If we need more tooth
to the substrate we use Fix-A-Quartz, which is Firmonovo
with bits of fine quartz added to provide a good clinging base. 

     After the substrate has become a good base from which to work,
we begin the finish layers of Venetian plaster. The first layer of plaster
for many of our applications will be Prontomuro.
Prontomuro is 100% lime plaster, modified with quartz sand,
and becoming a base coat for the several layers of finish plaster to follow. 
From three to seven layers of finish are needed to achieve
the true finish of Venetian Plaster.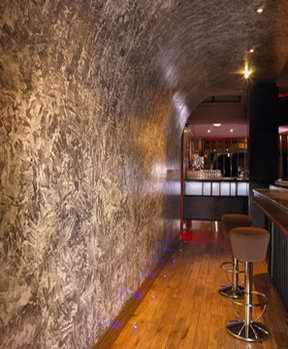 The final step is a process known as self-burnishing.
This happens when the stainless steel trowel, reacting with the
marble dust and limestone in the plaster, seals and shines the finish.
 This also brings the trowel movements, of the previous layers, to the surface. 
 
     Venetian plaster is traditionally, but not exclusively, burnished to a very high sheen.
 A wide variety of effects and colors can be achieved, from classical to contemporary.
 Unique and sophisticated color combinations are one of the trademarks of
Venetian plaster, going far beyond any faux paint.





Venetian plaster was developed in Venice to replace the use of real marble,
which was proving too heavy for the sinking city of Venice.

The artisans of the 15th century had improved on the long history
of using lime and marble powder for wall protection and decoration.

The Romans learned the art of plastering from the
Etruscans and Greeks of the 1st century BC
but it was used mainly as stonewall protection
and a base for wall fresco paints.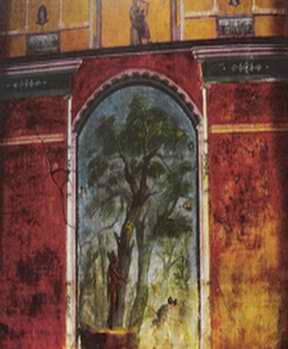 The Venetian artisans studied the plasters of the Romans
and found ways to give it more breathability and resistance to the
moisture and the saltiness typical of Venice.

It wasn't until these Masters of Venice who had studied the plaster mixture based on
 lime and marble, that decorative plaster had found its highest point of beauty.




   Architects and Interior Designers have come to rely on Venetian plaster applications as a must
for their portfolios, and once you have seen and felt the many applications that are available,
you will know why.